This week I've been rediscovering my wardrobe as I'm currently organising a vintage pop up shop at my university with my course and so it's inspired me to rework my old pieces into my new wardrobe.
I bought this blouse about 3 years ago and since completely forgotten all about it. I absolutely love the colour and print of the blouse and its sheerness looks chic without exposing too much flesh. I'm also a huge fan of high necklines and so the buttons to the top of the shirt are perfect for me. The high waisted denim shorts are also a pretty fail safe option as they tend to look good with anything.
I'm a little bit of a lazy girl to be honest when it comes to hair, I tend to always wear the same style just out of simplicity rather than choice. As much as I'd love to be able to create some of the fancy styles they feature in magazines, the truth is I'm not someone who tends to spend hours getting ready and perfecting their hair. So the discovery of the 'donut' has definitely become a little bit of an obsession for me (along with my green jumper that I cannot stop wearing). It's so easy to do and looks amazing!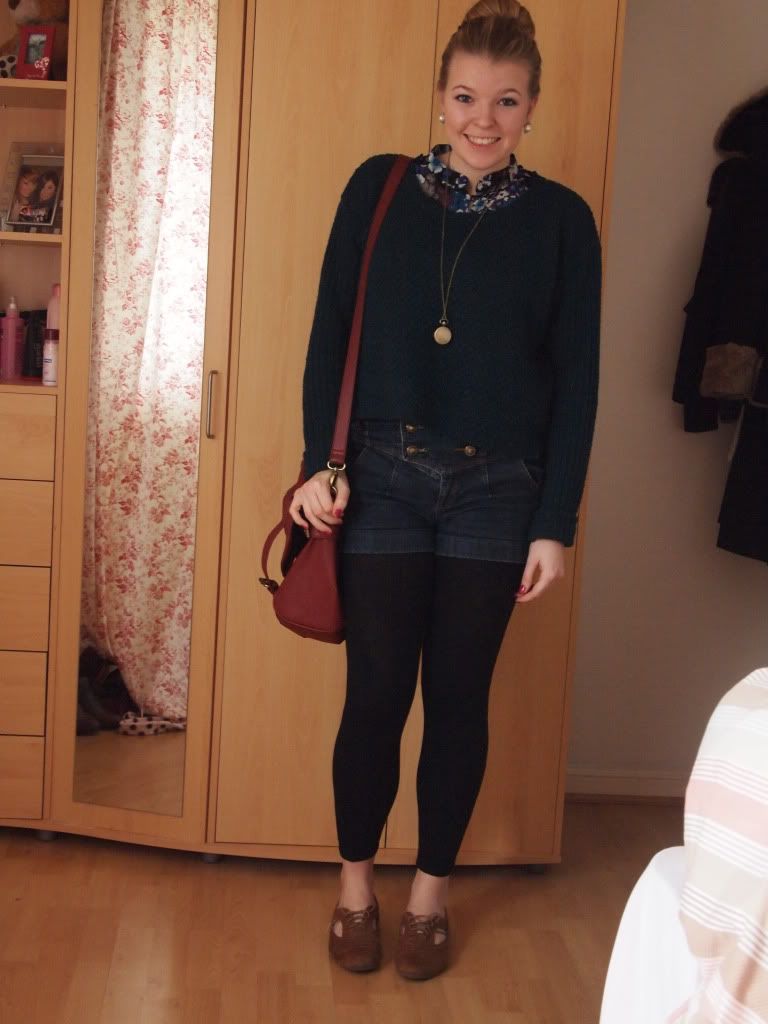 In other news its the official opening of Autumn Winter 2012 LFW (Yay!).
Bora Aksu combined childhood purity with feminine strength to create a collection of tailored jackets, sheer shirts and skirts in a palette of pastel pinks, cream, grey and fiery reds and oranges, taking inspiration from Henry Darger's novel 'In the Realms of Unreal'. Personally I'm not sure about the combination of colours, however the printed shirts and pussy bows are definitely my kind of style.
Absolutely love Fyodor Golan's use of glitter, unfortunately I may have to just use this on my eyes...
Although my favourite collection so far is Orla Kiely's 1920's nostalgic look. I love all things cute and vintage looking and so for me this collection is something I could see myself in. Patent satchels, silk blouses, retro prints and sequined collars.
And finally a huge congratulations to Alexa Chung on her new role... British Fashion Council's young style ambassador.
Enjoy your weekend
Xx